(Am I crazy for posting this? And help, please.) {Day 10}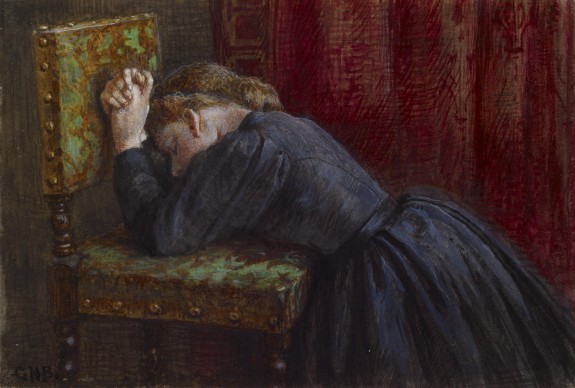 {Day 10}
"A man with leprosy came and knelt in front of Jesus, begging to be healed. 'If you are willing, you can heal me and make me clean,' he said. Moved with compassion, Jesus reached out and touched him. 'I am willing,' he said. 'Be healed!' Instantly the leprosy disappeared, and the man was healed."
~ Mark 1:40-42 NLT
I remember the season I struggled with depression.
Yep.
You read that right.
Me…the girl who God saved a few times from death is human.
And broken.
And sometimes has to admit that waves of dark days loomed over her while caring for 3 little kids.
Silently, I suffered because I was too afraid to tell more than a handful of people what was really going on…I mean, good Christians can't feel depressed, can they?
Some of you may have read Day 9's devotional and cringed because your prayer—the one you have begged God for, maybe even corporately prayed for—hasn't produced your desired result just yet.
Friend, you're not alone in this valley. Pull up a seat and lean in, knowing that you're normal—that other believers most likely sitting within three rows from you in church are feeling waves of sadness over their situation, too.
For me, during this odd season in my life, I'd wake in the morning to play my favorite worship mix while I started my quiet time. With my Bible flipped open to a profound verse, I'd suddenly feel the sensation of tiny tears dribbling down my cheeks onto God's precious Word.
I often thought, "What in the world is going on?"
Can we just pause and thank the Lord for Scripture? After researching many passages, I now know the truth:
King David (Psalm 6:2-7)
Job (Job 6)
and even Elijah (1 Kings 19:4) struggled with dark days,
yet God used them greatly.
Fortunately, my husband didn't lose hope with my sadness. He tried to cheer me from time to time by calling my closest friends to take me out for dinner, or he'd bring me my favorite chocolaty treats and a fun movie to watch at night, even though nothing was working.
Nothing.
When you're this broken, you'll do just about anything for answers.
So I did.
I continued crying out to God for help, but in a bold new position, one where I bowed with my face flush against my Berber carpet, and wept.
It wasn't pretty, but it was real.
Are you ready for another challenge during this off season (even if you're not battling the blues)?
If so, consider grabbing a cushion of some sort to kneel, bow, or rest your elbows on as you situate yourself low in a comfortable prayer position. Hugging the ground can seem odd at first, but something happens when we press our face to the floor. I know personally that's when a full emptying of myself opens my heart to His.
I can't explain it. Truly.
But if you've never tried it, I'd suggest giving this submissive position a chance. And you know me, I like to search for proof in God's Word where He either encourages us to do something, or He models the act through other followers who tapped into true strength:
"(Jesus) walked away, about a stone's throw, and knelt down and prayed,"
~ Luke 22:41 NLT
"Then the people of Israel were convinced that the LORD had sent Moses and Aaron. When they heard that the LORD was concerned about them and had seen their misery, they bowed down and worshiped."
~ Exodus 4:31 NLT
"A man with leprosy came and knelt in front of Jesus, begging to be healed. 'If you are willing, you can heal me and make me clean,' he said. Moved with compassion, Jesus reached out and touched him. 'I am willing,' he said. 'Be healed!' Instantly the leprosy disappeared, and the man was healed."
~ Mark 1:40-42 NLT
These reoccurring themes in Scripture demonstrate the power released when we fully submit to God.
For me during this despondent season where I bowed down, God brought a friend into my life who told me to research the sleep medicine I was using. She said that for some people this type of treatment may be driving me deeper into despair. So I quit taking the pills (although sleeping was hard at first). And you know what?
A week later, my early morning tear-fest stopped.
I realize everyone reacts differently to medications, and thankfully, some are not affected in the same way. However, for me this was a personalized answer to months of prayer. I wish I could tell you this was the only time waves of despair washed over me.
It wasn't.
A dip in hormones has caused down days, along with just facing icky trials in this life, but this battle I mentioned above lasted for months. Not fun.
My point that I hope you hear is that God answers our prayers when we ask for help. Mind you, my answer didn't happen overnight, but as I pleaded on my knees, he revealed my next step.
From this day forward, I'd encourage you to grab your favorite prayer pillow to kneel on each morning. Leave this cushion nearby your quiet time area so when you begin your devotions you're reminded to bow before your Father and unleash His power, much like the Leper in our main verse experienced.
~~~
Have you ever knelt to pray? Why or why not?
__________________________________________________________________________________________________________________________________________________________________________________________________________________________________________
Try kneeling today and write out the prayer that's been on your heart:
__________________________________________________________________________________________________________________________________________________________________________________________________________________________________________
"Worry has no place in the life of a believer. Praying? That's the key. Praying brings peace because it's how we fix our minds on God. We often hear the phrase, 'Prayer changes things.' In reality, that's not entirely true. Faith changes things. Prayer changes us. We're upset about this, anxious about that, in turmoil about the other. But, as we pray, we experience a change within us regardless of whether the circumstances change."
~ Jon Courson, Jon Courson's Application Commentary
Old Testament Volume 2: Psalm – Malach
"Then King Jehoshaphat bowed low with his face to the ground. And all the people of Judah and Jerusalem did the same, worshiping the Lord."
~ 2 Chronicles 20:18 NLT
"One day Jesus told his disciples a story to show that they should always pray and never give up."
~ Luke 18:1 NLT
"But she came and began to bow down before Him, saying, 'Lord, help me!'"
~ Matthew 15:25 NIV
"When I think of all this, I fall to my knees and pray to the Father,"
~ Ephesians 3:14 NLT
~~~
As always, if you missed any of the first 9 devotionals, click the underlined day to catch up (remember, I'm missing Day 5 because I submitted this to Proverbs 31 Ministries as a potential devo): Day 1, Day 2, Day 3,  Day 4, Day 6,  Day 7 Day 8, and Day 9.
Remember, if you share feedback or tips where I may have a typo, I'll include you in the acknowledgement section of this 30 Day Devo for the Newly Diagnosed, from a (Former) Professional Patient.
My dyslexic brain thanks you.
Thank you for being apart of my writing process.
Normal people are amazing.
God bless,
Dabney
PS To subscribe to the blog to receive future posts, click here.